Bio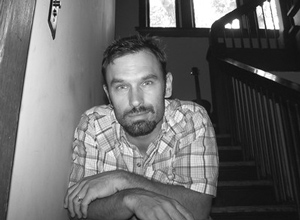 On his last Cd, "New American Way" Thomas Pace did exactly what you might expect of him. For the past five years, Pace has recorded and released a steady stream of remarkable records that few Chicago songwriters could claim to have paralleled.
In 2003 Pace's solo debut "Walking Distance" met with wide acclaim from both fans and critics. Creating a solid foundation for future works "Walking Distance" remains a fan favorite.
In 2004, during the lead-up to the presidential election, Pace postponed working on his follow up record to write and record the politically charged, four-song EP "If You Want to be Heard, Speak Up!" It is with the "Speak Up" Ep that Pace garnished his first attention at the national level.
In early 2006 Pace released the heart-breaking and haunting "Electrocaine." With the help of performances from some of the best musicians in Chicago and around the country, "Electrocaine" solidified his place among Chicago's premier songwriters.
Now, after hosting the Chicago House of Blues weekly Songwriter-in-the-Round show for nearly two years, Pace has returned to the studio and is preparing to release what can only be described as his culminating work.
On "New American Way," due out this September, Pace continues with his habit of making extraordinary records. As on his prior records, Pace's songs offer a unique honesty that often captures truth at a basic level, but on "New American Way," Pace is talking about us.
"I think it's kind of an American self-portrait." Says Pace looking as though he's apologizing. "If you look hard enough, you just might even be able to see yourself. I know I do."